Atlanta Fight Club - 10.28.2010

I was approached by Konsole Kingz to appear at an Official Capcom event near Halloween 2010! Capcom's Fight Club party came to Atlanta where hundreds of fans gathered to preview play the new Marvel vs Capcom 3 video game. I was hired alongside 4 other great Atlanta costumers to be living artwork entertainment. Our photos had to be approved by Capcom, as they were very specific about which character they wanted for that night and how the costumes should look. I was happy to discover that such a big name company still cares so much about how their characters are represented.Thankfully, they loved us, as did all the game's fans. We posed in character on 5 podiums spread around the venue and rotated through out the night so everyone could get a good look and have the chance to take a picture with us. I was absolutely astounded at the turn out, I mean it was packed, and at how amazing my fellow costumed ladies looked. The one thing we were the most proud of is that we're not just hired models, but we are also fans of the characters and games, and each hand made our costumes. Our Trish specifically made her entire costume in three days just for this event. That is dedication! I was so honored to be a part of this fabulous event!
OMGbooth.com posted some photos and below you'll find some shots that Brian Boling snapped at that. Thank you so much to Capcom and Konsole Kingz for having us at your event!
From left to right: Jenny as Trish, Lindze as Morrigan, Cathy as Chun Li, me as Felicia and Riddle as X-23!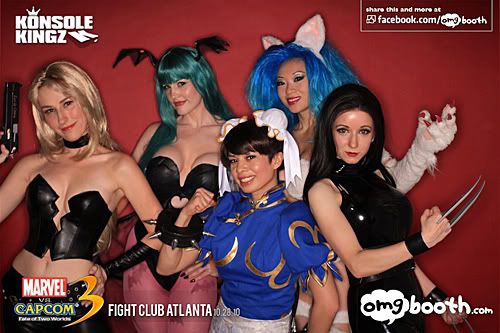 Photos below by Brian Boling