About Yaya
Hello and thank you for visiting the online portfolio of costume designer, model and cosplayer Yaya Han®. Born in China and raised dually in Asia and Europe, Yaya has crossed oceans to live her dream as an artist. For the past 11 years, Yaya has been creating full costumes and fashion pieces in the United States, and what began as a passionate hobby has evolved into a loving craft and career.
Yaya invites you to explore her portfolio in it's entirety, and be sure to visit her Online Store of hand crafted items and more!
I was approached by Konsole Kingz to appear at this awesome event that took place last night! Capcom's Fight Club party came to Atlanta where hundreds of fans gathered to preview play the new Marvel vs Capcom 3 video game. I was hired alongside 4 other great Atlanta costumers to be living artwork entertainment. OMGbooth.com posted some photos and I will be doing my own photo heavy report coming up soon! Thank you so much to Capcom and Konsole Kingz for 2010-10-29 having me at your event, and thank you to the fellow costumers for joining me!

From left to right: Jenny as Trish, Lindze as Morrigan, Cathy as Chun Li, me as Felicia and Riddle as X-23!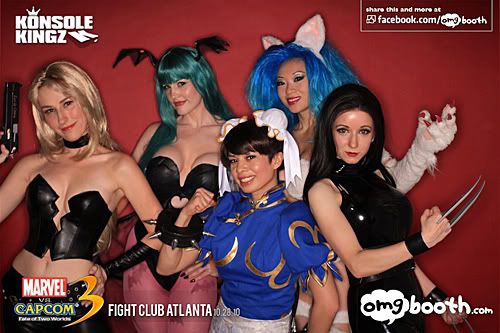 << Start < Prev

41

Next

>

End

>>


Page 41 of 41
New Updates
11/14/12: I have added 3 new galleries tonight, hope you'll enjoy them!
 07/30/12: Sorry for the lack of regular updates. It's so much easier for me to throw something up on Facebook and Twitter from my phone while I'm traveling, and boy have I been traveling a lot. Please LIKE my Facebook Page for daily photo updates, and Twitter for daily musings. I am also creating a corset giveaway on Facebook when I reach 50,000 Likes so please support that goal for a chance to win free prints, t-shirts, calendars, posters, cosplay accessories, and a corset made by me!!
I do have a new gallery for you guys today, of my Art Nouveau Chun Li costume!!! Enjoy the photos and construction notes!
*NEW*

04/18/12: Another brand new costume gallery - I had so much fun making this outfit, a second Wizard design from Granado Espada!
*NEW*